General Information
How do I get to the ACS Learning Management System (LMS) webpage?
Access the ACS LMS homepage at learning.facs.org.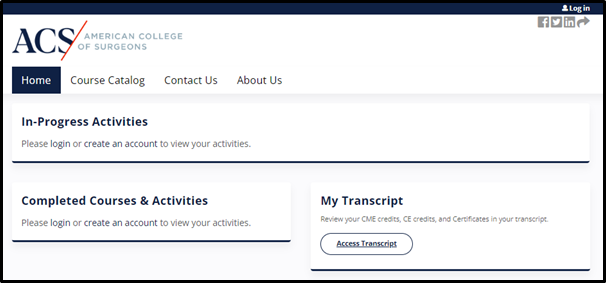 How do I log in?
Members: Log in using your FACS member username and password.
Non-members: Use the username and password created upon making the purchase/enrollment.
I'm having issues logging in. How can I retrieve my password?
Use the Forgot Password link to reset your password. Please enter your username or email and if we find a record, we will send a password reset email. 
To retrieve your username and reset your password, please enter your full e-mail address. If it matches the e-mail address that we have on file, you will receive an e-mail with your username and a URL with instructions on how to reset your password. If you have forgotten the e-mail associated with your account, please contact ms@facs.org 
Where do I go to update my profile because I need to change my email address?
To update your profile, you must log in to your ACS member account and click to edit the email address. Go to profile.facs.org/account to update your information.
How do I get additional login help?
If you need further assistance, please ask for additional help
How do I contact someone from the ACS? 
Please click and complete the information For technical questions, please contact Learning@facs.org
Course Enrollment/Purchasing and Credit Claiming
How do I view the course catalog/eStore?
Go to store.facs.org and select Courses from the drop-down menu.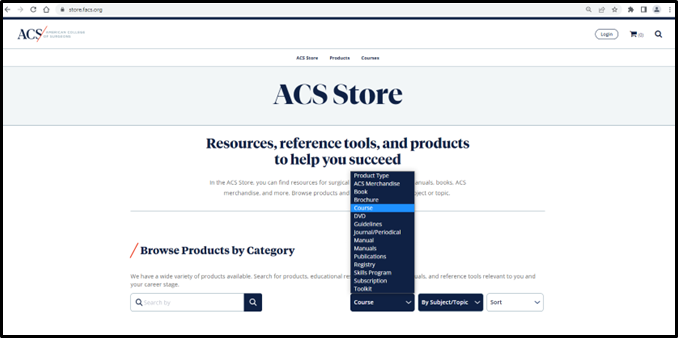 You may also search for the course by typing in the title and hit Search.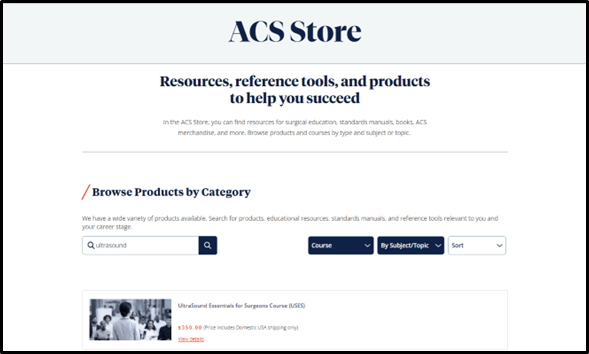 How do I register for a course that is hosted on learning.facs.org?
Download instructions on how to 
Register for a Course.
I already enrolled in/purchased a course. How do I access my online course?
If you register for an online course, you will receive an order confirmation email with instructions on how to access your course. Make sure to check your spam and junk folders.
Download instructions on how to 
Access a Course.
How long do I have to access the course content?
Each course is different and will have varying start and end dates. To check the course start and end dates, see below for example:
I completed the course, but the credit is not showing on my transcript, how can I correct it?
Your MyCME record will be updated with your earned credit 15-30 minutes after you have successfully completed all required elements in the activity.
How do I access the MyCME portal to check my transcript? 
Use MyCME to manage your CME credit at your convenience. With MyCME, you can view, upload, and track CME activities; electronically share CME Credits; and reflect on and plan your future learning. Log in to MyCME.
I received the wrong certificate. How do I get help to correct this?
Certificates generated for attendees are based on your eligibility. Please contact Member Services if your ACS profile has not been updated so it will reflect the current certificate you will receive.
Member Services
Phone: 800-293-4029 or 312-202-5000
Email: ms@facs.org